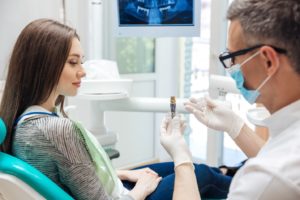 If you have lost one or more of your natural teeth, your dentist may have suggested that you invest in dental implants. How did you react when you learned how much they cost? Many individuals automatically assume that the price is too high, and they opt for a bridge or traditional denture instead. But are dental implants worth the cost in Torrington? In this article, we will discuss why the answer to that question is yes for most patients.
Long-Term Value
A traditional dental bridge may last for 10 years or so, while a regular denture might serve you well for 5 – 8 years. The cost of periodically replacing these types of prosthetics can add up over the years. Dental implants, on the other hand, have the potential to last a lifetime. In fact, their remarkable longevity might even help you save money over treatments that have a lower upfront cost but that need to be replaced every few years.
To gain a balanced perspective, you might find it helpful to calculate the daily cost of dental implants. To do that, take the estimate for dental implants that your dentist gave you and divide it by the number of years left until you reach a relatively old age. Then, divide that number by 52 (the number of weeks in a year). Divide that last number by 7. Many patients find that when dental implants are seen as a lifelong investment, they only cost a few dollars a day!
Non-Monetary Value
While financial concerns are certainly a consideration when you are making decisions about how you care for your mouth, you should also pause to consider the non-monetary value of a treatment. Unlike a traditional denture, dental implants:
Support the jawbone and prevent it from deteriorating. This helps your face avoid the "sunken" look that is common after tooth loss.
Provide a strong bite force. Dental implants are sturdy enough that you can use them to eat virtually any food.
Feel completely natural in the mouth. In many respects, you can treat dental implants just like you treat your natural teeth.
Are as close as you can get to natural teeth. They look so realistic that onlookers may never know that they are not the same teeth you have had since your younger years.
Your Dentist Wants to Help
Your dentist wants to provide you with the best care possible. Ask them what provisions are available to help you manage the cost of dental implants in Torrington. With insurance and financing, you might be surprised by how easy it is to fit this high-value, potentially life-changing treatment into your budget!
Meet the Author
Dr. Virginia Graicerstein is a restorative and general dentist with decades of experience. She has devoted countless hours to honing her implant dentistry skills. She and the team at Torrington Dental Care are proud to provide start to finish dental implant care at a competitive price. If you would like to learn more about your tooth replacement options and their associated costs, contact us at 860-969-2423.