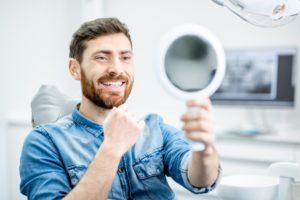 If you have decided to invest in veneers, it is understandable if you want to get to your final results as quickly as possible. You have a beautiful smile to look forward to! Before your dentist can complete your treatment, however, you will need to wear temporary veneers in Torrington for a while. In this blog post, we will discuss why these temporary veneers are a vital part of your journey toward your ideal look. We will also provide some guidance on how to care for them.
Protect Your Prepared Teeth
In order to prepare your teeth to support veneers in Torrington, your dentist will have to remove a thin layer of enamel from them (usually less than the width of a contact lens). This is vital because it ensures that your veneers will not look bulky or unnatural. However, the downside to this step is that removing the enamel can cause dental sensitivity. Temporary veneers serve to protect your prepared teeth. You will thus be able to enjoy a wide variety of foods while you are waiting for a dental laboratory to finish your permanent veneers.
Preserve Aesthetics
Individuals who purchase veneers are generally very conscious of their appearance. Teeth that have been prepared for veneers can look a little odd. Your dentist does not want your confidence to suffer between the time your teeth get prepared for veneers and your appointment when you receive your permanent ones. Temporary veneers will help your smile to maintain a natural appearance.
Testing Drive Your New Look
Veneers are a long-term investment, so you should be firmly committed to their design. Temporary veneers allow you to "test drive" your new look. You will have time to consider their shape, size, and color. You will also discover whether you can speak easily with them or if their length interferes with your pronunciation. Let your dentist know about any feedback you have, and they will incorporate your preferences into the design of your permanent veneers.
What to Expect with Your Temporary Veneers
Temporary veneers are not as durable as their temporary counterparts, so you will need to take a few precautions while you are wearing them. For example, they may stain, so you should avoid dark foods and beverages. Additionally, you should avoid sticky foods; temporary veneers are made to be easy to remove, and you would not want your food choices to make them come off before they are supposed to.
Temporary veneers are an important part of your path toward your dream smile. If you have questions about them, your local cosmetic dentist would be pleased to chat with you.
Meet the Practice
Drs. Virginia Gracierstein and Sharon Iype are the general and cosmetic dentists at Torrington Dental Care. Veneers (both traditional porcelain veneers and no-prepare veneers) are among the many services they offer. If you have questions about how you can change the look of your smile or what to expect during the treatment process, they would be pleased to help you. Contact our practice at 860-969-2423.