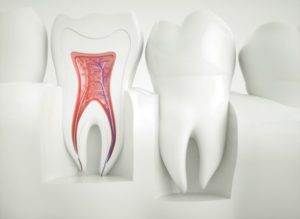 If you have ever undergone a root canal in Torrington, hopefully you had a pleasant treatment experience. Still, if your dentist tells you that the procedure has to be redone, you may be reluctant to consent. Understanding why root canals sometimes need to be repeated may help you feel more comfortable with your dentist's recommendation. Below, learn about some common reasons for endodontic (root canal) retreatment. You will also learn what the basics of what happens during the procedure.
Reasons for Root Canal Retreatment
Here are two of the most likely reasons for root canal retreatment:
A tooth has complex anatomy. In many cases, it is difficult — or altogether impossible — for a dentist to clearly see all the tight, tiny spaces inside your tooth. If there is anything unexpected about your tooth's anatomy, an initial root canal might not be as thorough as hoped. This is not common, but it is more likely to happen with molars than it is with the teeth toward the front of the mouth.
A tooth has incurred further damage. Fairly soon after root canal therapy, a crown should be secured onto the treated tooth. If crown placement gets delayed for any reason, bacteria are more likely to sneak back into the tooth and spark a brand new infection. Similarly, if a crown is broken or ill-fitting, bacteria will have an opportunity to slip beneath it and cause damage. Such infections often lead to the need for root canal retreatment.
In some cases, endodontic retreatment is necessary fairly soon after the initial procedure. In other instances, however, the need for it arises years or even decades down the road.
What to Expect During Root Canal Retreatment
Depending on the specifics of your case, your general dentist might decide to perform your root canal retreatment. However, if there is anything particularly challenging about the situation, they might refer you to an endodontist, a type of dentist who specializes in treating the interior area of teeth. Either way, you can be confident that you are in good hands when you undergo your procedure.
In most ways, your second root canal will be similar to your first. Your dentist will clean out the infection in the tooth, fill it in, and later, place a crown. Before doing all of that, however, they will need to remove the filling material that was used to fortify your tooth after your first procedure. That is why endodontic retreatment often takes longer than an initial root canal.
The prospect of undergoing root canal retreatment might be a bit intimidating or unappealing, but it is nothing to worry about. The chances are high that the procedure will be a success and you will be able to regain a healthy, fully functional smile.
Meet the Practice
The experts at Torrington Dental Care have years of experience in helping patients to enjoy improved oral health. We want everyone who comes into our practice to have a comfortable, positive experience. If you have questions about root canal therapy or root canal retreatment, we would be pleased to speak with you. Contact us at 860-489-8940.