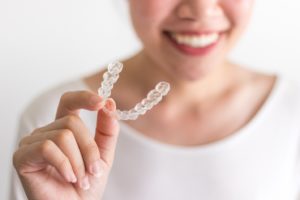 While some people regard Invisalign as a purely cosmetic treatment, it is actually much more than that. Not only can it enhance the appearance of teeth, but it can also reduce the risk of numerous oral health problems. In some cases, fixing TMJ with Invisalign in Torrington is even a possibility. This blog post discusses what causes TMJ problems and how clear aligners may be able to help.
What Causes TMJ Problems
The temporomandibular joint (TMJ) is the joint that connects the lower jaw to the rest of the skull. Problems with the TMJ are collectively referred to as TMJ disorder, or simply TMD. TMD can be caused or worsened by a wide range of factors, including physical trauma, arthritis, a stressful lifestyle, and more. In some cases, the cause remains a mystery.
Often, though, the primary culprit behind TMD is a misaligned bite, also called malocclusion. Issues like overbite, underbite, cross bite, and open bite can place strain on the TMJ, causing it to work extra hard during eating and speaking. Unpleasant symptoms, such as pain, difficulty chewing, and headaches, may result.
Invisalign and TMD
Invisalign is able to correct many cases of malocclusion. By shifting the teeth into their correct positions, it promotes a harmonious relationship between the upper and lower jaws. Treatment with Invisalign may even include accessories that train the lower jaw to rest in a position that puts as little strain as possible on the TMJ.
After completing Invisalign treatment, many TMD sufferers have noticed a reduction in their symptoms. For some, their discomfort disappears altogether. During their Invisalign treatment, they may need to use other pain relief measures to cope with their disorder until their bite and jaw are successfully repositioned.
Of course, it is important to bear in mind that Invisalign is not suitable for every case of bite misalignment or TMD. Severe bite problems may require traditional braces or even surgery to correct.
Getting Started with Treatment
If you are experiencing symptoms of TMD, it would be wise to visit a dentist who is qualified to diagnose and treat your condition. After a thorough evaluation of your teeth and bite, they will recommend your next steps. If Invisalign may work for you, they can get started on designing your aligners.
If it looks like Invisalign might not be able to help you, your dentist may suggest that you try at-home remedies or that you start wearing a nightguard to prevent teeth grinding and clenching. If your case is particularly severe or unusual, they may refer you to a specialist.
TMD is a complex problem, and there is no "one size fits all" way to address it. In many cases, though, Invisalign can help to provide relief by correcting a misaligned bite.
Meet the Practice
The experienced, highly trained dentists at Torrington Dental Care are proud to provide both Invisalign and TMJ therapy. If you are interested in learning how they may be able to help you straighten your teeth or find jaw pain relief, contact our office at 860-259-4073.